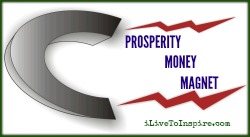 You may be looking for a way to put more money into your pockets and may not be aware of this prosperity law that most times goes ignored and is very effective.
I have heard of people using this one simple prosperity law to double their income.
You can find many books on this prosperity law however I share with you the one I liked the most with some additional information from my own personal experience.
There are a few key points to take note of when enforcing this particular prosperity law in your life. I also provide info on where you can find more info on this strange prosperity law.
Don't listen to this episode if you want to have less money and don't want to hear about this prosperity law.
Love Peace and Bliss


Alecia
This prosperity law may be the missing link you have been searching for.