Never quit should be your mantra not  an option when it comes to your goals, your dreams, the life you desire. The story below of Greg Kolodziejzyk highlights the benefits of never quitting on your dream.
This story definitely wowed me and made me want to lick stamps  :-). As I share his inspiring story with you, you will understand the whole need to lick stamps.
He decided to start his own graphic design company after being laid off from a job he only had for 3 months with an oil rig. He and a friend started a company making recall cards for Canadian dentists so they wouldn't have to import them from the United States.
Greg did the design work while his friend did the printing and within two weeks they had produced their first set of cards which later gathered dust on the shelf in a warehouse for over a year because they got distracted by other business projects.
This bothered Greg as they had shelved a great idea because of all the unknowns. They quit. Something just didn't sit well with Greg and didn't allow him to let the project go.He realize they should never quit.

The whole idea of quitting the project so easily annoyed Greg so much that he took one Saturday, went into his office and created the best advertising brochure he could.
He made 500 black and white copies, folded them and stuffed them into 500 envelopes, licked 500 stamps then hand wrote 500 address for dentists he found all over Canada… talk about taking some crazy massive action.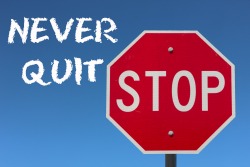 His reasoning behind taking this action was if they got a response from the dentists, it would give them the well needed kick in the butt to take action. On his way to the office on Monday morning he dropped the envelopes off at the post office.
In his mind he found completion because they took the next step and he did all he could . One week later he was stunned to find his mail box stuffed with orders.
13 years later they became the largest supplier of recall cards to the Canadian dental marketplace and the second largest in the US. Their largest American competitor felt so threatened by their rapid growth and acquired Greg's company for an amount of money that allowed him to retire on the spot.
Many of life's failures are people who did not realize how close they were to success when they gave up.– Thomas Edison
The bottom line…

Never Quit

.
How differently would your life look if you never quit on your goals or dreams?
Love Peace and Bliss
Alecia
P.S. You can catch the entire video with Greg Kolodziejzyk Never Quit story here