Happy international Day of Happiness. Yes… Its an official day today.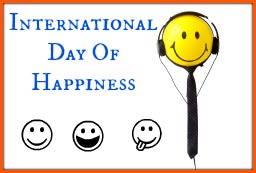 In my opinion it should be celebrated everyday. No wonder I did a show about happiness yesterday because its in the air and today is the official day.
So, welcome to the accidental happiness series. Don't you just love it when the universe brings everything together.
I share 10 things you can do to celebrate happiness everyday.
Love Peace and Bliss

Alecia Lawrence
www.ShareAway.ws