Podcast: Play in new window | Download | Embed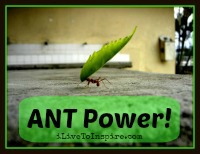 Usually we don't pay attention to Ants. In this episode we will take a look at the life lessons we can learn from the life of an ant.
This philosophy is near and dear to my heart and the standard my which I have lived my life since I first heard this philosophy.
Love Peace and Bliss

Alecia
www.ShareAway.ws