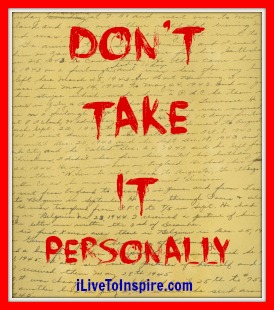 Sometimes people make comments and they hurt your feelings. I can understand especially when its from someone who you respect and care about. When it comes to criticism you have to examine the source.
Today I had to put my work out on the table for review by my coach. I had recently written a sales letter for the product I am creating.
I got this coach because he is the best at what he does… helping people with start up business and he cost a pretty penny.
You may have heard me mention my motto. If you want to do something fast, you find someone who has done it before and have them show you the ropes. So I bravely put my sales letter out there in a live webinar coaching session with the rest of the group. My work would be out there for everyone to see.
First of all he was not too excited about the name of my product. You might be thinking… who the heck is this guy. Well he runs a 7 yep that's 7 figure business and he teaches people how to build one from scratch or where ever you are in the journey of building or expanding your business and he has a lot of success story and my plan is to be the next one. Like I said, he is the best.
So back to my sales page, I originally had 26 pages… whoa I know it was just as had to edit it down to 15 and then down to 12. So he was not very impressed with my sales letter. I could hear it in his voice.
Then I thought, I am here to make the best product I could possibly put on the market and I will trust his expertise and insights. Which is exactly what i told him, let me know what I need to change and I will do it. Then he proceeded to dissect my sales letter and pretty much said to get a blank page and move over bits at a time and condense it to 5 pages.
That was definitely a thought as I edited it and cut out parts three times and still had 15 pages… How is that possible? Then here is my next question, How is it possible that I can suffer from separation anxiety when it comes to reducing my letter from 12 pages to 5?
I thanked him for his insight and didn't take his insights personally. I took in depth notes because I will follow his instruction step by step until I get him totally gogo gaga over my sales letter. He did say that having 12 pages of sales letter is way better than staring at a blank page and he is absolutely right.
Pointers when being criticized
Consider the source: Do they know what they are talking about, do they have your best interest at heart.
Take what you want and leave the rest: If think they don't have a clue what they are talking about… you can find gems in bad comments.
Be honest with yourself: Are you being really open to the truth or still wearing blinders towards the trigger for the criticism.
Was it a valid point: They criticism can be totally spot on and its time to acknowledge and accept the truth. That is a tough one for me as well. As mentioned it helps to take the emotion out of it.
Keeping it constructive: Its great to receive constructive criticism. I also believe people should watch their delivery, especially if the person receiving the constructive criticism is sensitive.
Take Action: You are honest with yourself, the point is valid, now take action. I am definitely going to take his criticism and rewrite my sales letter from scratch. First I going to have a glass of wine before I take another stab at this letter. What ever works for you… just take action.
Don't press repeat: Learn from the criticism. Sometimes criticism falls on deaf ears which the recipient of the criticism would now call nagging. Most times something devastating has to happen before the person takes action and by that time its too late or would take a lot to salvage.
Drop the emotion: Honestly, I survived my coach's critic of my sales letter because I dropped the emotion out of it. Dropping the emotion made it way easier to be objective.
I think its important to surround yourself with the right people and the right info. You environment will contribute greatly to anywhere you want to be in life.
The bottom line
Don't Take It Personally.
Love Peace and Bliss